Clutches
Clutch Linings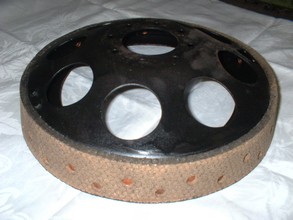 We can supply clutch facings in various materials for most applications in organic or metal sintered material. These can be pre-drilled or blank, and in a full range of sizes and thicknesses. Heavy duty and Kevlar high performance materials available.
Clutch Pressure & Drive Plates
Some reconditioned clutches are available, or your old clutch can be serviced. Both spring coil and diaphragm pressure plates as well as ridged and sprung drive plates can be reworked and returned to an as-new condition. We can also up-rate the spring pressure on coil spring pressure plates.
Special Clutches
We have also reconditioned various other types of clutch units, such as multiplate, wet oil emmersed, cork button, heavy duty sintered pad plates, and many other types.
Above is a reconditioned clutch cover and drive plate for a 1950's Rolls Royce car.

Various clutch facings, drilled and undrilled.